How to Start a Freelance Copy Editing Business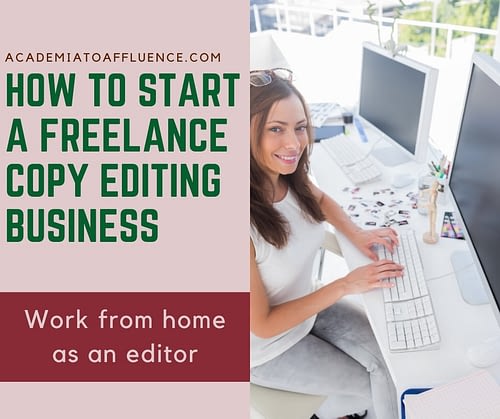 Interested in joining the world of freelance copy editing? You've made an excellent choice. I've been a full-time freelancer for nearly a decade and can tell you with confidence.
Editing is one of the best freelance jobs from home.
Today I work as a freelance writer and editor. I love being an editor for a lot of reasons. Unlike writing, editing requires little or no research on your part. That means you don't need constant internet access either. You can download your documents, edit from anywhere, then upload when you're done. You can do it from a kid's baseball game or at the park. Sure, you have to buy your own health insurance, but there's also no need to sit in some office space to get work done with remote editing jobs.
Editing is also a really easy niche to get into, if you follow the right steps. A lot of people try to get into editing but they don't understand how to become a freelance editor online. I can tell you right now there's a big difference between what traditional production editors do and working remote editing jobs.
As long as you understand what freelance copy editing is all about and know how to market yourself online, it's really easy to succeed.
So I'm going to explain everything you need to know, including:
• Exactly what freelance copy editing is
• The different types of copy editing
• How much you can charge for copy-editing services
• How to start your freelance copy editing business
• How to find your first clients using your editing skills
Ready? Let's go!
What is Freelance Copy Editing?
Before deciding whether a freelance editing job is the right choice for you, it's important to understand what the job is all about. Back before remote editing jobs became popular, copy editing was one very specific service professional editors offered. In the traditional editing world, copy editing is distinct from other forms of editing and proofreading. Here's the definition, according to Google: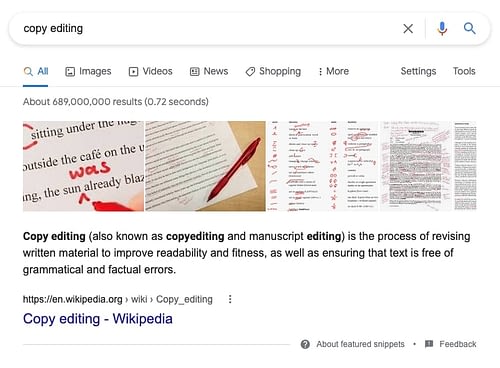 So traditionally, copy editing is about improving the readability and consistency of written content. But now that writers increasingly rely on freelance copyeditors, the definition has blurred a lot. Someone hiring you for copy editing online could expect you to perform a variety of editing tasks.
It's important to know what all these types of copy editing are so you and your client understand and agree on what your job really is before you start working.
8 Types of Copy Editing
There are many different types of freelance copy editing you can do. Here's a look at the main types of copy editing services I've encountered as a freelancer over the years:
1. Line Editing
Line editing involves editing content sentence by sentence with the goal of improving the quality of writing overall. It can include making changes to spelling, syntax and grammar. Line editors also ensure language is consistent, concise, and easy to comprehend.
2. Proofreading
In the traditional editing world, proofreading involves reading the printer's proof of written material and marking errors. Content has already been edited and just needs a final check before publication. In the freelance world, proofreading essentially means a light edit. You read through content for minor spelling and punctuation issues, but all major problems have already been fixed.
3. Fact-Checking
Some authors will ask you to help with fact-checking, especially for fiction work. Instead of editing grammar, spelling and syntax, you'll focus on the content of the story, making sure any places, dates, depictions and historical events mentioned are accurate.
4. Rewriting
In the freelance world, rewriting is often considered a form of editing. Rewriting involves recreating a piece of content so that it's unique and passes plagiarism checkers. A client could ask you to rewrite something for a lot of reasons. For example, they might not like the voice of the original content, or want to update it to be more relevant.
5. Developmental Editing
Developmental editing is the most in-depth type of editing out there. It involves "significant structuring or restructuring of a manuscript's discourse." This usually happens with early stages of a manuscript. Developmental editors are free to make criticisms of the storyline and suggest changes to improve it. Developmental editors should have significant knowledge and experience with the specific genres they're editing.
6. Substantive Editing
Substantive editing is similar to developmental editing. You're gauging content accessibility for a range of topics. Substantive editors check manuscripts for accuracy and suggest changes to storyline where applicable.
7. ESL Editing
There are lots of freelance gigs out there for English as a Second Language (ESL) editors. ESL editing involves eliminating spelling, grammar and syntax errors in non-native English writing. ESL editing is quite different from regular copy editing because it can take much more time to rework writing, fix spelling errors and improve accuracy in grammar. ESL editors are in high demand among university students and in business.
8. Academic Editing
Academic editing involves editing highly specialized content that is written for a specific discipline, like humanities, social science, physical science, medicine, etc. If you have expertise in any of these areas, you could find plenty of remote editing jobs. Academic editor salary tends to be higher than other types of editing because of the expertise required. There are many companies that hire former teachers to do remote academic editing.
It's important to know what kind of editing job you're getting into before you agree to work on a client project. Some types of copy editing require more skills and time to complete. You can and should charge more for these services.
What Copy Editor Qualifications Do You Need?
I used to think you needed an English degree and special certifications to start freelance copy editing. I was wrong. Absolutely anyone can be a copy editor. I've done all sorts of editing and my background's in anthropology!
The only real requirements to start your editing career are an excellent grasp of the English language, spelling and grammar. It helps if you also have an understanding of the mechanics of good writing (fiction or nonfiction), word choice and style. If you have a passion for reading and knack for writing, lots of people could use your help as an editor. Attention to detail is a must.
In some cases, it's valuable to know the rules to different editing style guides, such as Chicago, APA, or MLA style. You could also get certifications from reputable organizations to verify your skills. But 95% of online editing jobs won't require any of this.
I've never used special credentials in editing gigs over the years.
Freelance Copy Editing Rates
At this point you're probably wondering how much you can earn with freelance copy editing. How much you can charge really depends on the type of content editing project and how much expertise is required. You'll get paid more editing books than blog posts.
There are several ways to charge for copy editing services: Charge by the hour, per page, on a project basis, or set your freelance editing rates per word. In order to charge per page or per word, you should first have a good idea of how much time it takes you to do different kinds of editing. That way you don't accidentally underpay yourself for tedious work.
The Editorial Freelancers Association has a helpful table that shows a range of fees for different kinds of freelance editing jobs. Here are their rates for copyediting:

Here are their rates for developmental editing:
Here are their rates for proofreading:
These fees are really just guidelines. You can easily earn a lot of money copy-editing if you specialize in certain genres, niches, and types of editing.
How to Get Freelance Copy Editing Jobs From Home
You're probably wondering how freelance copyeditors start out. It's actually quite easy to begin. It doesn't matter if you want editing to be your full-time job or just something to supplement your income. You can get started within a week.
Here's what you need to do:
1. Get samples of your editing work
It doesn't matter if you don't have a degree or special editing credentials. All you need are samples of your work to illustrate your skills.
Don't have any samples of your editing work?
No problem. You can create them.
Start by collecting some content from an intermediate level writer in your main editing genre, preferably something that's a first draft. If you're planning on being a fiction editor, make sure it's a fiction piece. If you plan on being an academic editor, make sure it's academic content, etc.
If you have friends or family that are writers, you can ask their permission to edit one of their early draft pieces. If you can't find someone with content that needs editing, then you can offer to do a small sample edit for free for clients you pitch online.
Once you have some content to edit, create two copies and use track changes to show the edits you made in the document. With the author's permission, you can use it as a sample of your editing work. It's worthwhile to have several different samples from different kinds of writing.
2. Clean up your online presence
If you're hoping to land a remote position, the next thing you need to do is update your social profiles. You need to decide which of your social profiles will be private, and which you'll use to promote your freelance editing business. For example, you might add freelance editor as a new job title on LinkedIn.
When potential clients are trying to learn more about you, they'll often turn to Google and social media. You don't want them checking out your Facebook page if it features photos of you drinking at parties. Nor do you want them to see your Twitter page if most of your tweets are political rants. Either clean up your social profiles so they contain nothing off-putting, or set them to private so potential clients don't see them.
Lastly, Google yourself and go through the first few pages of search results. If there's anything that comes up for your name that's irrelevant or seems unprofessional, make efforts to get the content removed.
3. Set up a professional website
The last thing you need to do is create a website for your freelance editing business. Lots of people think creating your own website is hard, but you can really do it in a day if you want. You don't need to have any special technical skills to do it. It's also not very expensive at all.
If you want step-by-step instructions for setting up the perfect website for freelance work, my course will teach you everything you need to know.